The community was taken by storm last week with news that some of the titans of the anime and manga industry were banding together with Japan's Shuppan Koho Center to stop piracy. Shonen Jump, Kadokawa, and Kodansha used some of their most popular characters to catch the attention of fans with a simple message: Stop pirating, you're destroying the cycle of creation.
違法な海賊版サイトを見るのはやめよう!出版各社が参加する「STOP! 海賊版」キャンペーンのお知らせです。
クリエイターを守ることが、新たな作品を生み出す原動力につながります。
皆様のご協力をお願い致します。https://t.co/Y7suO7Ljmj
#STOP海賊版 pic.twitter.com/DGrLoz0UA0

— 少年ジャンプ編集部 (@jump_henshubu) August 1, 2018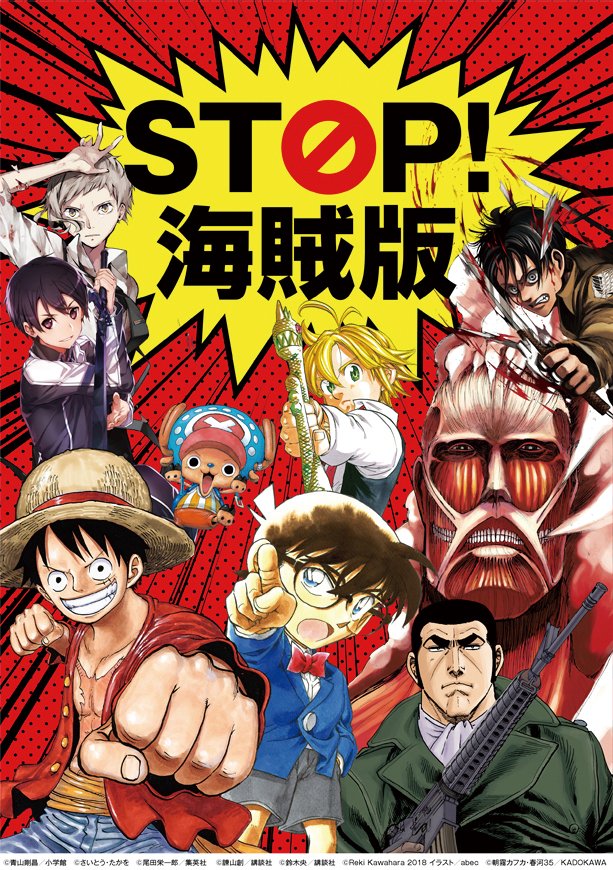 They also shared a simple graphic that details how manga creators can't eat if people don't buy their stories, editors can't hire or raise any new talent, booksellers can't carry manga if people don't buy it, and eventually, the manga readers will find no new stories being produced.
While the marketing campaign has yet to be seen as a success or failure, the eye-popping numbers in the reports shared on Shuppan Koho Center's website hint at how widespread piracy is as well as how popular anime and manga have become.
They estimate that publishers lose 50 billion yen ($448.9 million) to piracy in Japan and a staggering 1.3 trillion yen ($11.7 billion) to piracy in the U.S.
That's a lot of missed revenue if the reports are accurate. That's near the amount of revenue the industry made in 2017: a total of $17 billion. Considering how manga creators, artists, and other staff in the industry struggle to make ends meet, we're probably going to see a lot more company led and creator led initiatives to stop piracy.