Kyoto Animation held a fan event for Sound! Euphonium and they announced that two all-new theatrical movies are being produced!
Both movies will debut in 2018 and will not be compilation films. One of the movies will be a story between second-year students Mizore Yoroizuka and Nozomi Kasaki, with the other centering around Kumiko Oumae and her friends entering their second year of school.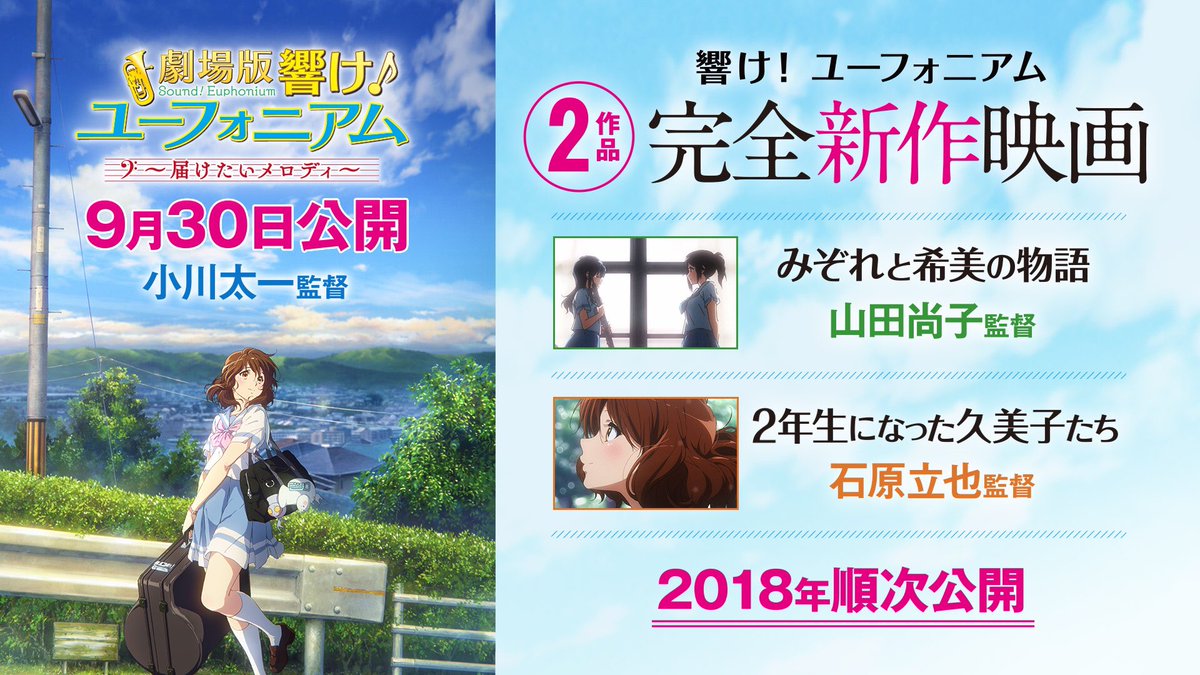 Naoko Yamada (A Silent Voice) will direct the movie about Yoroizuka and Kasaki while Tatsuya Ishihara (Sound! Euphonium seasons 1 and 2) will direct the movie about Oumae. Kyoto Animation did not announce premiere dates for the movies.
While those movies are in production, Kyoto Animation did say that a compilation movie based on the anime's second season will debut on September 30th.
Sound! Euphonium is a series of novels created by Ayano Takeda, which began publication in 2013. Four mainline novels, two spin-offs, and one collection fo short-stories have been created so far. The series centers around the Kitauji High School Concert Band, which used to be a mainstay at national competitions. But ever since changing advisors, the band has never advanced past the Kansai tournament. A new, stricter advisor has been brought in to help the band improve, but the members are caught up in their personal lives and roles within the band.
The anime centers around Kumiko Oumae, an indecisive first-year student who plays the euphonium.
Kyoto Animation has produced two anime seasons, a short film, and a compilation of the first season.