HIDIVE is a young anime streaming service and they are attempting to stand out from the crowd with their newly revealed Dubcast program.
YOU DON'T WANT TO MISS THIS!

HIDIVE is debuting it's latest feature DUBCAST℠ for the Spring 2018 simulcast season!

Read More about DUBCAST here: https://t.co/pi8FS77qNo pic.twitter.com/kEtgi07Ljf

— HIDIVE @ AnimeBoston (@hidiveofficial) March 23, 2018
HIDIVE is promising to deliver dubbed episodes of their Spring 2018 simulcast lineup within two weeks of their subbed premiere. The service will focus on English dubs, which will be available to all subscribers without a separate payment tier.
The company's Dubcast initiative is set up to compete against Funimation's Simuldub program, which sees dubbed episodes of their simulcast lineup within two weeks of their subbed premiere. If HIDIVE's initiative is similar to Funimation's, then dubs will see fine-tuning and certain changes in time for the home video release.
HIDIVE launched June 2017 and they have been making moves to attract users as the streaming sphere gets more competitive. Many of their earlier licenses also appeared on Amazon's now-retired Anime Strike. Those series, which include fan favorite Made in Abyss, are now available on HIDIVE across all of their regions.
The streaming service primarily streams titles that licensed by Section23 Films and Sentai Filmworks but are not "officially" a part of Section 23 Films and can stream titles from different licensors. HIDIVE founder and president John Ledford is also the president of Sentai Filmworks.
Here are anime market trends that hint why it makes sense for HIDIVE to dive into Dubcasts, even as the market gets more competitive.
More Dubbing Opportunities
More and more anime is being produced every year, signaling an increase in demand. The number of dubbing opportunities has increased not only because of the quantity of anime being produced, but some contracts require a dub to produced.
Anime owned by Netflix HQ require different subs and dubs to be produced for streaming, which falls onto the Japanese studios to produce. For example, Production I.G. had to pay for 20 dubs and 5 subs for B: The Beginning.
Increases in Anime Interest and Streaming
Anime fans constantly hunger for fresh new shows to watch, with peak interest occurring during simulcasting. Just look at the trends for Seraph of the End (Owari no Seraph), which was big during the Winter 2015 season. The two spikes in interest correlate directly to the airing of season 1 and season 2.
Simulcasting interest isn't restricted to sub fans. Dubs fans have always voiced their desire to simulcast seasonal anime, and HIDIVE's Dubcast caters to that demand. Offering both subbed and dubbed simulcasts can lead to community growth and additional revenue.
There's also always the possibility of catching new fans who are being converted from celebrities like Kim Kardashian and Tyga talking about anime as a source of inspiration.
I am obsessed with anime. That was legit my inspo https://t.co/l3wVdwGyeN

— Kim Kardashian West (@KimKardashian) February 28, 2018
The possibility of Getting Acquired
Anime licensors have been snapped up by larger corporations. Last year, Funimation made noise when they were acquired by Sony and Crunchyroll has been a subsidiary of Ellation (owned by AT&T and The Chernin Group) for the past 5 years.
Sentai Filmworks and HIDIVE, which shares the same president, are the next largest English anime companies that haven't been acquired. Launching Dubcasts to grow their audience and licensing opportunities could attract a potential purchaser on the level of Sony or AT&T that is looking to expand into anime.
HIDIVE's first confirmed Dubcast will be Devils' Line, which is a seinen romance between a human and half-vampire.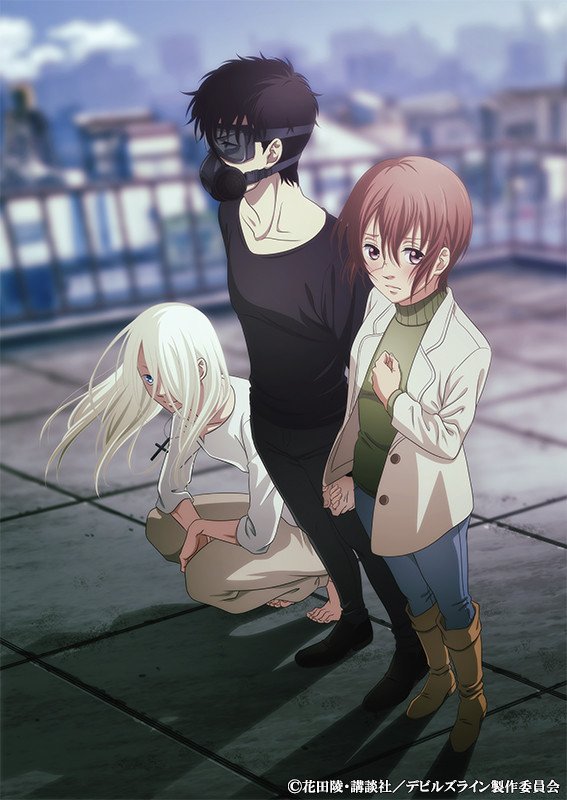 We reached out to HIDIVE for comment but were not able to get a response in time for this publication due to their team exhibiting at Anime Boston.