1. Shinji Ikari – Neon Genesis Evangelion
​Daddy issues and giant angels have zapped him of any confidence he might have.
2. Van Fanel – Escaflowne
With a traitor of a brother and a destroyed kingdom, it's no wonder why Van has trust issues and doesn't have the confidence to trust anyone.
3. Hitomi Kanzaki – Escaflowne
​Hitomi is filled with doubts and thrown into a world where she has no tangible power, all her fears come to the surface and bring chaos to Gaia.
4. Joe – Digimon
Joe is the type-A personality taken to the extreme. He freaks out about everything and has little confidence that he can do anything to to help save the day. Working with his digimon, he learns to have courage and confidence that he can do worthwhile things.
5. Megumi Tadokoro – Shokugeki no Souma
A brilliant cook (at chopping and home cooking) who hasn't been in many cooking competitions to test herself. She doubts herself at every turn, especially since she compares herself to Souma.
6. Keitaro Urashima – Love Hina
Let's be honest. Keitaro has a reason for his self-confidence issues. He's failed his college entrance exams numerous times. Although with a huge harem of women who want him, he never seems to be very concerned until it's almost test day.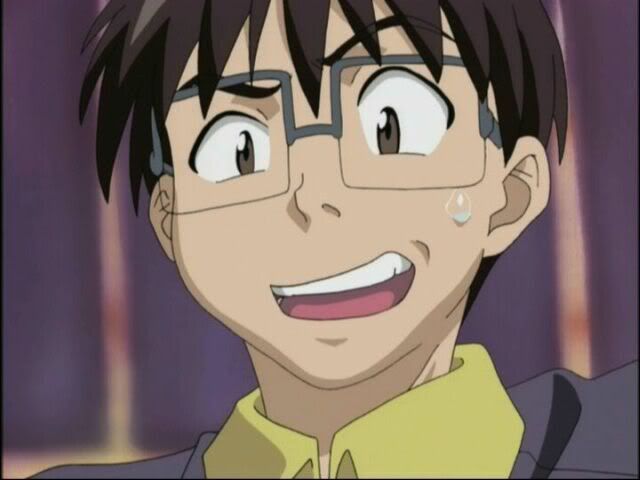 7. No Face – Spirited Away
He has no face 🙁
8. Kurashita Tsukimi – Jellyfish Princess
A true fangirl that lives in a run down dorm with other people who have fear of others. Tsukimi tends to think of herself as weak and not cute enough to be loved. With a passion for jellyfish and clothes, she might be able to change.
9. Zetsubou Sensei – Sayonara, Zetsubou Sensei
Despair lives in the very soul of Sensei, there is no room for confidence. The seeking of death's sweet embrace is his only hobby.
10. Madao – Gintama
​Poor Madao. Let's leave it at that.
​
11. Tsuna – Katekyo Hitman Reborn
Tsuna was called "useless Tsuna" by his classmates and was unable to achieve so many of his goals because he didn't have th courage and confidence. Until Reborn shot him with his gun (again and again).
​
12. Haruyuki Arita – Accel world
A super spaz who is terrified and tends to blow things out of proportion.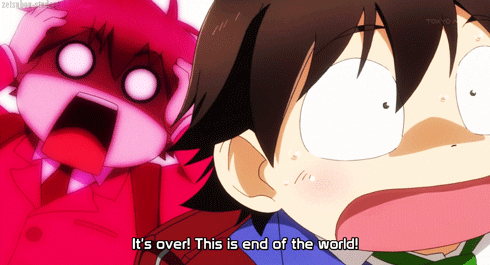 13. Kaneki Ken – Tokyo Ghoul
Kaneki was the king of sweet and naive before he went on the worst date of his life. His life takes a nose dive and he is suddenly thrown into a world where everything is the opposite of everything he's ever known.
14. Usopp – One Piece
He beat Perona who could make people so depressed they gave up on fighting. He won because he was already the most depressed person in the world.
15. Sho Hinakawa – Psycho Pass 2
A computer genius who could crack the code to uncover who the hidden villain is. While he's a genius, he spent every step of the way making himself small.
16. Hikigaya Hachiman – Yahari Ore No Seishun
With a strange pride and fiercely independent, Hachiman is fine on his own. But it may be because he doesn't have the confidence to trust and reach out to other people.
17. Team Rabbit – Majestic Prince
The team selected to save the world is Team Rabbit but with robots whose strength is tied to their confidence and will, it becomes clear that they for the most part they have no faith in themselves.
18. Yukari Hayasaka – Paradise Kiss
Yukari saw herself as awkward and stubborn, which she is but she is also many other things. With confidence about as low as you can get, Yukari struggles to accept her new life as a model.
19. Shintaro – Kagerou Project
Just count the many times he's tried to kill himself.

20. Naru Sekiya – Hanayamata
​Sweetest of the sweet, timid, and severely missing the confidence to do anything, much less perform yasakoi. With help and friends, she takes the baby steps forward towards the future.
21. Yunoha Thrul – Aquarion Evol
​So shy she literally goes invisible as her power.
22. Arima Kousei – Your Lie In April
It will take all my feels to explain how Kousei's lack of confidence underpinned all the major plot points in this beautiful show. Instead, let's just cry together.