Netflix is doubling down on their anime efforts as they revealed a slew of projects at Anime Slate 2017! The anime unveiled ranged from exclusive licenses, original Japanese projects, anime-esque American series, and movies.
Netflix is touting their anime projects as having the best Japanese and Western creative talents. The streaming service announced that they are spending $6 billion this year in creating exclusive content, which also includes their live-action projects.
But anime is definitely a focal point for Netflix in 2018. In the past, Netflix's CEO Reed Hastings has been vocal about wanting to produce original anime for their library. 11 of the 13 new anime coming to Netflix next year will be bonafide Netflix Originals and not just licenses.
Even better is that Netflix told the Anime Slate audience that the medium is popular with their users, with 90% of anime Netflix watches coming from outside of Japan.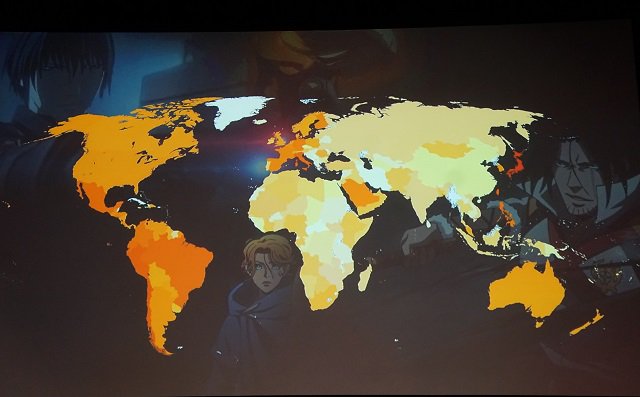 Let's look at what Netflix has in store for this and next year!
Fate/Apocrypha
Netflix has the exclusive streaming license for Fate/Apocrypha. Netflix does stream episodes weekly in Japan, but they are bringing season one to the U.S. on November 7 and to worldwide audiences on December 2.
Fate/Apocrypha takes place in an alternate timeline where the Holy Grail was stolen during the Third Holy Grail War. The Yggdmillennia family re-writes the Holy Grail War rules and challenges the Mages Association. Both sides send seven mages to fight for the Holy Grail, with the grail summoning a Ruler-class servant to watch over the war.
Kakegurui – Compulsive Gambler
Netflix also has the exclusive streaming license for Kakegurui – Compulsive Gambler. There is no worldwide release date yet, but the series is currently airing in Japan.
Kakegurui – Compulsive Gambler takes place at an academy that is ruled by gambling. Students make high-stakes bets at the risk of becoming a pet or expelled. Yumeko enrolls in the school as a way to satisfy her gambling addiction and to embarrass cocky opponents.
Devilman Crybaby
Devilman Crybaby is a Netflix original and will debut globally during the Spring 2018 season. Masaaki Yuasa (Ping Pong the Animation) is directing the anime at Science SARU.
Devilman Crybaby is a new adaptation of Go Nagai's classic Devilman manga series. It follows Akira Fudo, a boy who learns that a race of demons is planning on taking control of the world. According to his friend, Akira must bond with a demon in order to fight for humanity's safety.
A.I.C.O. -Incarnation-
A.I.C.O. -Incarnation- is a Netflix original and will debut globally during the Spring 2018 season. Studio Bones is producing the sci-fi anime and it will be directed by Kazuya Murata (Gargantia on the Verdurous Planet).
A catastrophe hit Tokyo which led to the birth of out-of-control life forms called Matter. Aiko's parents, who worked as researchers, died in the event. Two years later, Aiko learns that the secret to the catastrophic event lies in her body. A strange boy named Yuya and a team of drivers vow to take Aiko to the disaster site to discover what this secret may be.
Godzilla: Monster Planet
Godzilla: Monster Planet, and the two upcoming sequels, are Netflix originals. The first movie will debut globally in November 2017. Koubun Shizuno and Hiroyuki Seshita are co-directing Monster Planet at Polygon Pictures, with Gen Urobuchi writing the script.
In 2048, humanity is forced to flee Earth due to Godzilla and other kaiju roaming around. When they learn their chosen planet is uninhabitable, a young man named Haruo leads a movement to retake Earth. After successfully returning, the crew is surprised to see Earth's new ecosystem.
Lost Song
Lost Song is a Netflix original that will stream globally in 2018. It's a co-production between LIDEN FILMS (Akashic Records of Bastard Magical Instructor) and Dwango.
The fantasy series features two girls who can heal people with their singing. However, a sudden war taints the power of song and leads to the death of innocents. Destiny will bring the two girls together, but will their final song be one of hope?
Cannon Busters
Cannon Busters is an anime-esque Netflix original that will debut in 2018. Creator LeSean Thomas ran a successful Kickstarter in 2014 to create a short pilot for the series. Satelight (Macross Delta), Manga Entertainment, and Nada Holding will produce the series with Thomas directing.
S.A.M. is royal-class friendship droid who meets a discarded maintenance robot and a deadly fugitive. The unlikely trio embarks on a journey to find an heir whose powerful kingdom is under siege.
B: The Beginning
Originally announced as Perfect Bones, the anime will be a Netflix original that airs during the Spring 2018 season. Kazuto Nakazawa (Kill Bill's anime opening) and Production I.G. are still producing the series.
A futuristic archipelago is rocked by a serial killer called Killer B. The chaos leads to Koku, Investigator Keith, and the civilians to rush through a fortified city in an attempt to capture the mysterious killer.
Knights of the Zodiac: Saint Seiya
A CGI remake of Masami Kurumada's classic Saint Seiya manga. Netflix did not announce a release window, but they did reveal that Yoshiharu Ashino (D.Gray-man Hollow) will direct the remake at Toei Animation.
Knights of the Zodiac: Saint Seiya will adapt the Galaxian Wars to Silver Saints arcs. The series follows young knights who are sworn to protect Greek goddess Athena. Each knight wears armor based on a zodiac constellation and is granted powers when they are wearing it.
Sword Gai: The Animation
Sword Gai: The Animation is a Netflix original seinen anime that will air globally during the Spring 2018 season. The series is an adaptation of the Sword Gai manga and it's a collaboration between DLE Inc. (Thermae Romae) and Fields.
The series follows Gai, who was born beside his dead mother in a forest. A swordsman named Amon adopts Gai and takes him on as an apprentice. Gai loses his right arm while forging a sword, which forces Amon to repurpose the demon sword Shiryu as a replacement arm.
Baki
Baki is getting a new adaptation that will air on Netflix. Keisuke Itagaki (Baki the Grappler creator) will direct the series at TMS Entertainment. No release window was announced.
Baki is a martial arts series that stars Baki, a man who is training to become the strongest fighter in the world. Five of the world's most violent death row inmates challenge Baki as a form of atonement.
Rilakkuma
Rilakkuma is an adorable mascot that can be found on various merchandise. The character was created by San-X and rivals Hello Kitty in popularity.
Netflix will exclusively stream a short-format series based on the mascot for its 15th anniversary in 2018.
Children of the Whales
Children of the Whales is a Netflix original anime movie that will debut worldwide in 2018. Kyohei Ishiguro (Your Lie in April) is directing the movie at J.C. Staff
Children of the Whales is an adaptation of an award-winning shoujo manga that follows a traveling island and its super-powered inhabitants. Chakuro and his friends are excited to come to another island with a girl on it, but her appearance kickstarts a string of mysterious events.